Tackling bullying is a focus for many schools and organisations throughout the year but especially around November when The Anti-Bullying Alliance's week-long campaign takes place. This year's campaign theme was 'One Kind Word' which is especially relevant for how bullying has changed with the growing popularity of online learning.  
We decided to commemorate Anti-Bullying week by hosting the webinar 'Tackling online bullying: creating and maintaining a safe online environment.' We were joined by guest speakers Charlotte Aynsley (Safeguarding Consultant, Impero), Jonathan Coy (HeadTeacher Chat, Co-Founder) and Craig Butler (UK Business Development Manager, Netsweeper). This blog will run through the event and provide expert recommendations that could help your school become a safer place.  
Watch the recording below.
Setting the scene
This past year, Ofcom found that almost all children aged 5-15 had been online, with laptops, tablets and mobiles being their most–used devices. 
Covid-19 restrictions have left many teachers, parents, guardians and caregivers with less opportunities to supervise online behaviour. As a consequence, many children have been exposed to harmful content online during this time. Ofcom found in their Online Nation 2021 report that more than half of 12–15-year-olds had had a negative experience online in 2020.  
Video sharing platforms like TikTok saw a 45% increase in monthly active users which emphasises the significant change in the way children are learning, communicating, and interacting online. Over 50% of 5-15 years old use social media 50% of 5-15 years old use social media despite age restrictions on most platforms. Although some elements of social media platforms like TikTok can be beneficial to children, they also potentially expose children to harmful trends like the blackout challenge.  
Changes In Policy Context 
Updates to KCSiE 
(Keeping Children Safe in Education)
A key update for the 2021 KCSiE guidelines means there is now a responsibility for organisations to have appropriate filters and monitoring systems in place to help limit children's exposure to harmful or inappropriate content online.  
Notably, "Commerce" has been added to become the fourth "C" (signifying a categorisation of online risk) in KCSiE.  Schools now are responsible for educating and protecting children from risks associated with financial scams like phishing emails, inappropriate advertising and online gambling.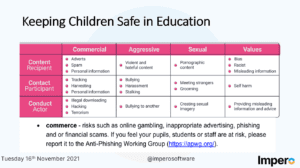 Tip: When planning your approach to digital safeguarding you first must locate the biggest risks you are facing as a school or safeguarding practitioner using the four C's (Content, Contact, Conduct and Commerce) as a guide. If you don't know what these risks are, ask your students directly and allow them to respond anonymously. 
Online Safety Bill
Scrutiny led the Online Harms Bill to become the Online Safety Bill. It focuses on the protection of children online, including age-appropriate design code to help ensure that the content children access online is suitable for their age.  
The age-appropriate design code is focussed on protecting children in a commercial sense, making sure their data is safe and companies are acting in the best interests of the child. Companies can use tactics like age verification to safeguard children from inappropriate and harmful content.  
The Online Safety Bill also places a duty of care onto social networks to be responsible for having reporting mechanisms for children to report inappropriate and illegal content. Companies and individuals will be held responsible and potentially fined if they do not meet these new requirements.  

Bullying behaviour

Most children who are bullied offline are also bullied online. A vast majority of children report that they are bullied in both environments. We can tackle online and offline bullying by first realising these environments are not mutually exclusive.
Group bully behaviour is a social phenomenon. To tackle bullying as a group behaviour, an adult needs to first break down and challenge the group's power dynamics. Rather than focussing on the 'target' and 'ringleader,' you can focus on the positive power of the 'defender' and the 'outsider.' This idea is relevant to both online and offline bullying behaviour.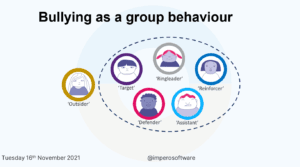 Managing and preventing incidents of online bullying
Impero Webcheck is a real-time, robust internet filter that can be deployed and configured to meet your school's needs. Webcheck combs through web traffic and uses categorisation to detect and prevent access to inappropriate or harmful sites that could expose students to cyberbullying, pornography, extremism and more. When combined with other policies, systems and tools, Webcheck can help build and maintain a whole-school approach to online safety.  
When setting your school's cyberbully or online safety policy, over-blocking can be counterproductive as it potentially eliminates learning opportunities. Webcheck gives you the ability to be more subtle in how filters are applied while providing additional information about students' browsing trends. 
Reporting
Webcheck gives you the ability to pull reports on individual students, classes or entire year groups. Having these kinds of insights can help your school track trends and, if needed, intervene, while also complying with KCSiE requirements on record keeping and reporting.  
Reports in Webcheck can help pinpoint what is being accessed as well as what people are attempting to access to identify sites that are becoming more popular or of concern. 
A culture of bullying or harassment cannot be tackled by blocking websites alone but engaging with what is learnt using such software. With Webcheck, we can address the trends and educate students and staff to support and establish an anti-bullying culture.  
Whole school approach: an overview
To have a functional whole-school approach, your Policies and Practices need to cover anti-bullying, safeguarding, online behaviour, social media and other policies.  
The infrastructure and technology need to be set up in a way that it protects your students, ensuring you have the right web filtering, monitoring and firewalls in place.  
Educating students, parents and staff is key. You need to make sure the curriculum contains up-to-date information about online harms, and that both students and their parents have access to this information.