For over 20 years Impero has worked closely with schools, organisations, and global child online safety charities to better understand the needs and requirements of educators so we can create solutions that keep children safe from harm.
We know how difficult it is to identify, manage and prevent incidents of peer-on-peer abuse. This is why we created a series of videos with two child safety experts: Impero Safeguarding Consultant Charlotte Aynsley and Safeguarding and Wellbeing Product Manager Natalie Cook.
Here we have outlined the basics of those videos about how to identify and prevent peer-on-peer abuse. If you'd like to view the full video series, you can do so on our YouTube channel here.
What is peer-on-peer abuse and why does it happen?
According to KCSiE 2021, peer-on-peer abuse (also known as child-on-child abuse) can include bullying or cyberbullying, physical abuse, sexual violence and sexual harassment (KCSiE pt. 1, 2021). It can occur inside or outside school grounds and may happen for a variety of complex reasons which may be 'motivated by perceived differences relating to race, religion, gender, or disability' (The Safeguarding Network, 'Peer on peer abuse').
There are many reasons why a child might harm another child and often these reasons are complex. Children who inflict severe peer-on-peer abuse or harm on others are often supported by other professionals like social workers.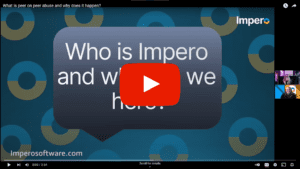 How do we prevent incidents of peer-on-peer abuse?
The three main areas to focus on when preventing incidents of peer-on-peer abuse are awareness, ethos, and culture. Schools should have policies in place which actively highlight how to prevent issues from happening, how to respond and how to support staff and students involved.
Schools and organisations should manage the narrative and challenge low-level forms of abuse, providing training to teachers and all staff in spotting the signs and educating them about having effective dialogue with students. Children should be taught about healthy relationships and consent across all ages and curriculum, so they feel able to report issues early on.
To prevent peer-on-peer abuse, organisations should ensure students feel safe and respected, and that they can trust that their concerns will be listened to. Schools should create a culture where it is unacceptable to harm another child and children should feel able to report issues if they occur.
It's important for students to be aware of what to do if they feel threatened. Schools also need to act on reports of abuse in a timely manner and actively challenge low-level behaviour which will help prevent the escalation of issues.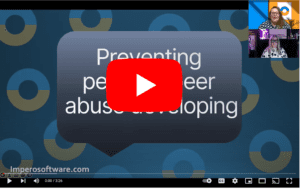 How do we manage incidents when they go wrong?
It's critical to know when to involve external agencies, and which agencies you should contact. Depending on the issue's severity, other agencies may need to be involved like the police and social care.
If an incident of peer-on-peer abuse has gone wrong, it is important to examine your current policies and reporting systems that you have in place so you can better understand what went wrong and what areas need improvement.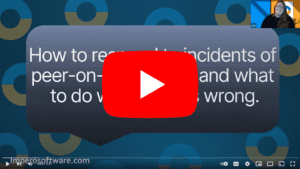 If you are interested in finding out more about how Impero can help safeguard your students find out more about Impero Wellbeing here.