In December 2000, the US Congress signed the Children's Internet Protection Act to safeguard against dangerous and obscene material. Despite this effort, websites and devices have advanced and proved very beneficial for many, including criminals, bullies and predators. Now, the US Department of Education has established Key K-12 Cybersecurity Resilience Efforts, including the K-12 Digital Infrastructure Brief: Defensible and Resilient, which aims to strengthen cyber security while keeping students safe. One this is clear – it is no longer sufficient to block websites; schools need a solution to manage and block apps on school devices.
The UK has also reacted to the growing concern. In May 2022, they published a specific set of rules in the Online Safety Bill. It seeks to prevent abuse such as cyberbullying, sexual predators, and X-rated content. It's clear that governments are trying to stay on top of the problem and prevent access to harmful content and apps, but it's not enough. Criminals and children continue to prove their tech intelligence, making it evident that more needs to be done to protect students while learning. Educators everywhere are searching for a way to block apps on school devices.
Popular Apps Students Use on Their Devices
In the US, there were more than 32 million reports of online child abuse, and in the UK, online grooming crimes have risen by 80% since 2020. Much of this is by way of popular apps kids are using.
To support Internet safeguarding efforts, most countries require web filters to be installed on school networks. However, students want to access chats, games and websites blocked by school policies no matter where they are and quickly find ways to circumvent filters. Some of the top apps kids are using to bypass filters are:
Ultrasurf
TOR
Psiphon
ProtonVPN – Fast & Secure VPN
hide.me VPN
However, circumvention presents a litany of issues, such as ransomware attacks, excessive bandwidth consumption, distractions from learning, or worse, risk to student safety. Many students will download apps to get around their school filter. Or worse, simply because their peers do it without truly understanding the risks and consequences.
A Student's Point of View on Bypassing Web Filters to Use Blocked Apps
When asked about harmful content and socializing online, one UK student revealed, "At least once a week, one of my friends finds a dodgy website or app we're probably not supposed to use. It's like a competition in a way-who can find the weirdest, the fastest. But last week, my friend told us about a new porn site and app download he stumbled on. He clicked on a link called [redacted] that he found in a Google search. But he was actually trying to find [redacted: something not harmful]. But really, I just like to be on Discord because all my friends can chat and plan attacks when we're playing Fortnite." This student reports he has been tech-savvy from a young age and readily admits he's been using Discord since he was 10.
Discord is a perfect example of a safety risk. It has become a popular choice among students everywhere. Unfortunately, while it was created for gaming and user interaction, it quickly became a reliable source for predators. Anyone from anywhere can join, and there isn't a foolproof way the app can restrict access based on age. Even though Discord states that users must be 13 to open an account, there is no verification process, and it relies on a child's common sense to use it responsibly. Let's be honest; common sense goes out the window when children discover anything new and exciting. And Discord facilitates many students' greatest passions – gaming and socializing.
Evidence of Severe Risks to Students When Using Some of the Popular Apps
In June this year, NBC News identified 35 prosecuted cases of abduction and sextortion cases involving Discord. And last year in Washington state, the mother of a 16-year-old high school student who used Discord uncovered alarming discussions in the teen's account. When her daughter wanted to join Discord to chat with her school bandmates, she didn't see the harm at first. But then she learned that her daughter had started communicating with a man in the UK via chat. He had asked for nude photos and specific details of where they lived in the US. To protect her daughter, she sought the help of Discord's admin to shut the account down immediately. It took them six weeks to respond and act.
Students also use apps like BitTorrent VPN (Virtual Private Network) that hide activity on a device or Tor, for example, which encrypts and hides browser activity. Many apps can conceal IPs, keystrokes, messaging, and so much more, making it an easy tool for circumventing school web filters. They allow ransomware attacks and unregulated direct communication from anywhere. All of which can lead to student and school network vulnerabilities. Fortunately, IT administrators now have access to security products that can restrict access and mitigate threats. Web filtering solutions provide site blocking and content control. However, not all filters allow real-time visibility and granular application control and reporting on student devices, on and off-premises. Impero ContentKeeper has a great solution to manage and block apps that are compromising your learner's safety and education.
Impero Offers a Unique Solution for Managing Apps Students Use to Bypass School Web Filters
Districts can keep pace with students' eagerness to bypass filtering with a multi-layer security strategy that keeps student safety front and center by purchasing Impero's ContentKeeper App Defender, an additional security layer available with our ContentKeeper industry-leading web filtering solution.
ContentKeeper App Defender identifies and controls over 100 apps students can use to circumvent school filters or disrupt learning, resulting in improved safety and security. App Defender offers easy management and security within a single, user-friendly dashboard that includes reporting on top application use and circumvention attempts, on managed and unmanaged devices.
App Defender's key features include:
Identifies applications by signature
Blocks known apps that move from port to port
Helps safeguard students from harmful or illicit activity
Reliably reports on app usage on your network
Provides ransomware defense by preventing TOR and other VPN applications from bypassing your security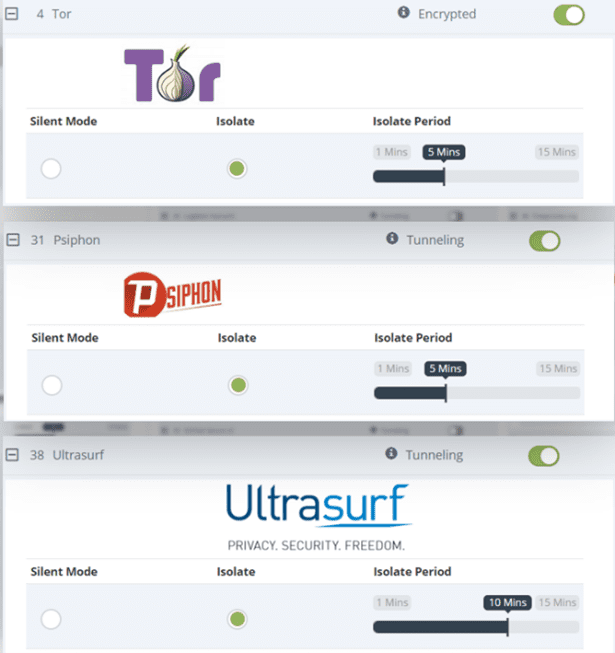 Impero's ContentKeeper web filtering solution and App Defender can easily be combined with other Impero solutions, such as classroom-level support tools, for a wholly proactive and strategic approach. Impero Classroom, our classroom management solution and Impero Wellbeing's robust keyword detection and succinct analytics can help teachers identify vulnerable students and keep them safe and on task.
To learn more about our holistic safety and wellbeing solutions for schools, book a demo today. Stay up to date on industry trends and product news by following us on LinkedIn, Twitter and Facebook.