Student Wellbeing Resources
These resources were compiled to help you continue to support the safety and wellbeing of your students.
Webinar Replay: The Student Mental Health Crisis - A Proactive Approach
Districts need more support and better tools to effectively get ahead of action and intervene at the student's thought stage. Watch a recording of this webinar to learn the difference between proactively and reactively addressing the current mental health crisis, how technology can bridge the gap for educators in the face of this crisis, and more.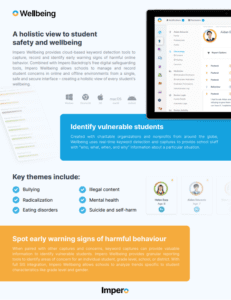 Get to know impero wellbeing

Impero Wellbeing provides cloud-based keyword detection tools to capture, record and identify early warning signs of harmful online behavior. Combined with Impero Safeguard's digital safeguarding tools, Impero Wellbeing allows schools to manage and record concerns in online and offline environments from a single, safe and secure interface – creating a holistic view of every student's wellbeing.
Free Roundtable: How District Leaders Can Design a Holistic Plan for Student Safety and Wellbeing
School leaders face increasing challenges in promoting and protecting student wellbeing. In this Tech & Learning Roundtable, Dr. Kecia Ray, along with other wellness and education experts came together to discuss how schools can take a proactive approach to student and teacher wellbeing. We have made a recording of this roundtable available to you for free.
Our Latest Student Wellbeing Blogs
Read our latest blogs on student wellbeing and how Impero Software can support you as you support your students.