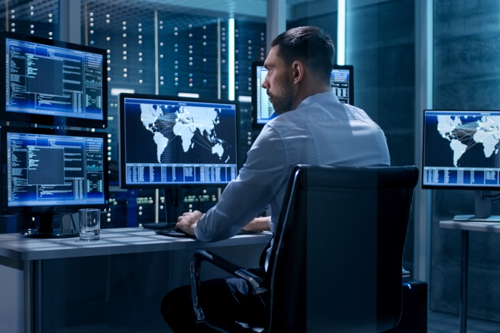 Managing vast networks of devices, vendors, users, and potential cyberthreats is a big job, but in our global business environment, it's more important than ever for IT administrators to understand how to keep networks secure.
Cybersecurity awareness tips begin with understanding the unique needs of your company and its network: who is using the network, what do they need access to, what devices are being used, and where are they accessing the network from.
When you have a good understanding of the needs and goals of your company, it's simpler to build a robust cybersecurity plan that will support network security and company goals. To get started on this plan, it helps to know the challenges IT administrators face, particularly as it relates to remote access. Keep reading to learn about these challenges and the tips you need to maintain the highest levels of network security.
Why Does Remote Cyber Security Matter?
Gone are the days of employees working in the same space day after day with an IT department close at hand. With companies becoming increasingly global, cybersecurity challenges demand more from IT managers and their staff. In fact, an International Workplace Group survey found that 50 percent "of employees globally are working outside of their main office headquarters for at least 2.5 days a week."
With the extensive network of devices, users, permissions, and vendors across the globe, cyber readiness is crucial to preventing malicious attacks–but you don't want to wait until an attack happens to be prepared. Implementing effective remote access solutions before an attack helps your company stay ahead of the curve and on top of the ever-changing global standards for cybersecurity.
Common Cybersecurity Challenges in Remote Workplaces
From managing employee remote access to managing vendors, cybersecurity is a challenging endeavor. When it comes to remote access and global networks, what are the biggest challenges?
Reducing VPN Risks: Many companies use VPNs as a way to give access to vendors, but this can leave your network vulnerable to malicious attacks.

Granting Access to Users:

One of the most common problems IT departments face is managing users, especially when devices and users are working remotely across the world. Giving users specific access, including time-based access, may help prevent gaps in security.

Encrypting Data:

Older versions of remote desktop software often don't support the highest levels of encryption. Without proper encryption, remote desktop connections can be left unsecured. Solutions that offer 256-bit AES encryption provide the highest levels of security.

Meeting Global Compliance Standards:

The proliferation of cyberthreats has led regulatory bodies across the world to create guidelines that ensure security for both companies and their clients. Meeting these standards–such as PCI, HIPAA, GDPR, and the most recent California Consumer Privacy Act (CCPA compliance)–is essential for maintaining compliance, but knowing which standards apply to your business can be a challenge.
Integrating with Devices and Operating Systems: Using multiple tools to manage the cyber readiness of different devices is often inefficient, expensive, and leaves a company's network open to attacks. Implementing software that has cross-platform capabilities can help consolidate tools into one place, preventing security gaps.
Identifying Where Security Breaches Occurred: Insufficient log data makes it difficult to identify where breaches happened, and where potential risks may be. Comprehensive logging helps IT departments identify past, present, and future risks in a more efficient way.
Benefits of Cybersecurity Awareness
Beyond the knowledge and expertise that IT departments need to have about cybersecurity, it's important for all employees to have a good understanding of cybersecurity best practices. With employee remote access being a common practice, it's helpful to have training and protocols in place to prevent cyberthreats.
Some of the benefits of cybersecurity awareness include:
• Reduction in employee errors
• Enhanced security
• Compliance with regulatory guidelines
• Save time and money over the long-term
• Helping protect company reputation
These benefits are great, so how can you implement more cybersecurity awareness? Here are some helpful tips to boost employee awareness that will support IT administrators in keeping networks secure:
Cybersecurity Awareness Tips to Improve Security
Ultimately, IT departments are responsible for the nitty-gritty of cybersecurity, but with these tips, employees will feel more empowered to make wise decisions and support their company in the process.
Password Management Keeps Accounts Secure
While your network's remote access software should support the highest levels of authentication, you want your employees to be wise in how they create and use their passwords.
A 2017 Pew Research Study found that 39 percent of adults use the same or "very similar" password across their accounts. That means that employees are likely using those same passwords on company accounts, too. Oversimplified passwords are a common access point for malicious attacks that can easily be negated with regularly changing passwords, requiring more intricate passwords, and implementing multi-factor authentication.
Identifying Scams Helps Prevent Costly Breaches
Email phishing scams are extremely common. The 2018 Internet Crime Report showed that 20,373 complaints were issued regarding business email, costing over $1.2 billion. While they often target personal information, email attachments and compromised links can also launch malware. Educating employees on common things to look for in a phishing email promotes cyber readiness and can prevent costly mistakes.
In addition to education, it's key for IT administrators to employ remote access solutions that use application whitelisting and produce extensive audit logs. Application whitelisting sets parameters around which applications are acceptable, thus preventing malware that could be inadvertently accessed by an employee.
Logging gives IT administrators access to all activity being conducted on the network, including that done through employee email and other accounts. With that knowledge, it's easier to identify potential risks, or where a malicious attacker gained access.
Secure Remote Access Makes a Difference
Remote access is a norm with the number of employees working remotely. With so many variables–Wi-Fi connections, devices, VPNs–it's important that employees use best practices when accessing their company accounts.
Of course, employees should never use public Wi-Fi connections, and even VPNs can open up potential security gaps. Teaching employees company policies on how to gain remote access is crucial to protecting your network.
From the IT perspective, implementing software that goes beyond a traditional VPN helps to control users and access. It can even limit access to specific groups, devices, and locations. That way, you never have to worry when an employee is working remotely.
Understanding Compliance Maintains Consistency
Cybersecurity awareness tips aren't just about how to use a device and remote access. It's helpful for employees to have a basic understanding of relevant regulatory guidelines as well, especially if a business operates in retail, cybersecurity in healthcare, or financial industries.
Employees do not need to know every detail of guidelines, but they should know where to go to find them and who to ask if they have concerns. Some compliance measures require additional employee training on regulations to ensure proper usage.
With the increasing number of regulatory guidelines, it can be challenging for companies and IT departments to remain compliant. Even if employees are trained, there can still be inconsistencies.
Secure, consolidated remote access solutions like Impero Connect helps companies stay ahead of the curve and avoid penalties and errors that could be costly and detrimental to the business. With streamlined, simple authentication, authorization, and auditing, companies can feel confident that employee remote access is secure no matter where they're working from.