Webinar: Overcoming Retail Security Challenges in 2023
Get key insights from the world's top retail solutions provider on what it means to keep your retail organization secure and productive.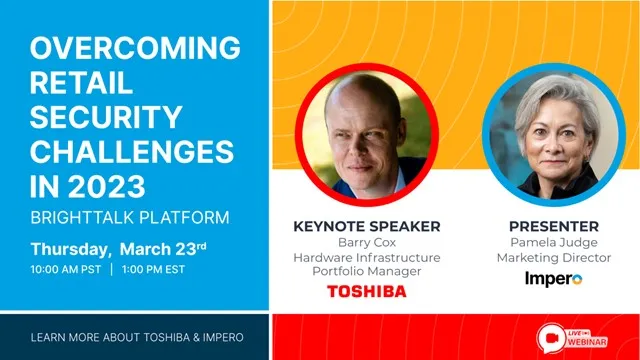 According to The State of Ransomware 2022 report prepared by Sophos, 66% of organizations were victims of ransomware in 2021 - up 78% from the previous year.
On top of that, nearly 3 in 4 organizations stated these attacks increased in complexity, volume and impact. These staggering statistics make one thing very clear – retail organizations need a strong plan to protect themselves this year. 
The good news for you: we have one of the world's top retail solutions providers to share insights and advice on how to keep your organizations secure and on the growth path in the following months.
Watch the recording of this webinar to:
Understand the key security challenges and trends retail organizations may face in 2023 and how you can address them
Learn about the latest developments and future projects from Toshiba & Impero that can help your operation stay secure and operational
Walk away with action items you can take to improve security for your retail operations in the coming year
Register to Watch On-Demand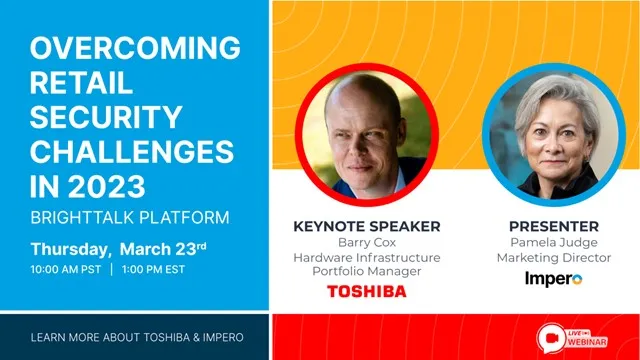 Webinar Recap: "Overcoming Retail Security Challenges in 2023" with Toshiba
Don't have time to watch the webinar? Read our blog overview to get insight into what our experts discussed and how you can apply these insights to your company today.