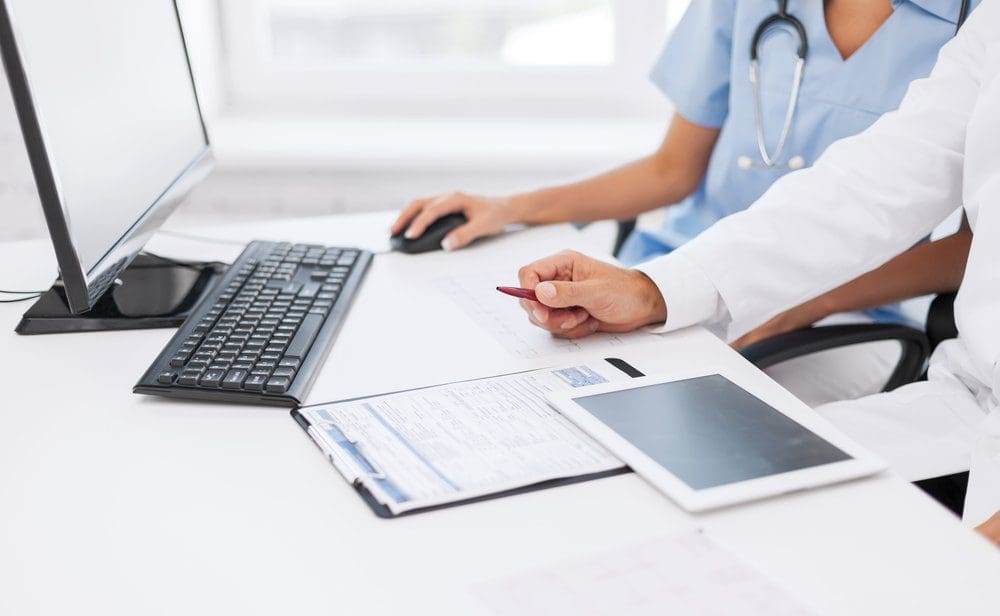 There are over 3.7 million medical devices in use worldwide that monitor our bodies in healthcare settings. A recent FDA report found 164 cyber threats present per 1000 connected devices. The explosion of online devices in the healthcare industry is presenting both challenges and opportunities for cyber security. As medical device technology continues to advance rapidly, IT professionals are looking for ways to ensure the security of IoMT.
What is IoMT?
The internet of medical things, or IoMT, is the group of devices, applications, and data that is online and connected via cloud-based solutions or internal servers. The IoMT transmits data to and from patients, providers, and machinery. These devices are a crucial part of informing healthcare decisions.
Much like the industrial internet of things, the IoMT is a subcategory of the broader umbrella term, the internet of things. The IoT in the broadest sense would describe any connected device, from phones and tablets to smart thermometers and XM radios.
With the growing popularity of connecting devices over cloud-based systems, one of the more hot-button issues has come to the forefront of the internet of medical things: security.
What are the Main Security Threats for Medical Devices?
There are countless trends that illustrate the importance of IoMT security. A recent report by Vectra found that most healthcare facilities have a 3:1 device to personnel ratio. From primary care providers to hospitals, online medical devices are ubiquitous in the healthcare industry. According to a 2020 report published by Palo Alto Networks, 51% of cyber threats in the IoT involve imaging devices, and 83% of those devices run on unsupported operating systems.
These trends of the proliferation of connected devices and their continued vulnerability can have serious consequences. For example, in 2020 one of the United States' largest hospital networks, Universal Health Services, was the victim of a coordinated ransomware attack. The Ryuk cyber attack caused costly downtime and interruptions in care.
Before we look at how to manage more IoMT secure devices, let's take a look some of the top security threats facing this industry.
Outdated Legacy Systems
When it comes to medical devices, security is not always built-in. As we mentioned above, many commonly used imaging devices such as X-ray or MRI machines may be running on an unsupported OS. Those devices are then left vulnerable since IT is unable to perform the necessary updates and patches that would keep them safe from hackers.
As Microsoft and other developers phase out older operating systems, it's imperative that not only healthcare providers, but device manufacturers themselves bring these IoMT devices up to speed. But legacy operating systems aren't the only threat to cybersecurity in healthcare.
Data Breaches
Ransomware attacks in healthcare and other malicious network activity can lead to massive data breaches. One recent study showed that healthcare data breaches increased 2733% in the United States between 2009 and 2019. The internet of things and medical device security are closely linked to these breaches. As more and more devices come online, there are more endpoints that can be left open to cyber criminals.
Data breaches are particularly dangerous when it comes to IoMT security because the stakes are so high. If any one of the countless devices in a provider setting has to go offline, it could result in interruption of care or turning away of patients.
Weak Authentication Measures
In a more traditional IT setting, basic security functions like password requirements and expiration windows may not be seen as lacking. But in many healthcare settings and medical devices, security features, no matter how basic, are often overlooked. Medical devices are built first and foremost for their OT functionalities, not their IT security. Thus, many are left open to potential breaches due to weak authentication.
Strong security solutions for IoMT devices start with integrating remote access solutions for healthcare. This includes but is not limited to ensuring that all connected devices are fitted with multi-factor authentication and encryption.
IoMT and HIPAA Compliance
Compliance concerns play a major role in the security of the internet of medical things. The Health Insurance Portability and Accountability Act of 1996 is the primary statute in the United States that protects a patient's right to privacy. Between 2010 and 2017, HIPAA reported that over 180 million patient records were exposed due to data breaches in healthcare.
When data breaches like these are traced back to suboptimal security measures in IoMT devices, it's likely that providers will face costly fines on top of what it may cost to address their technology. Of course, providers' first concern should be with the privacy and care of their patients, but it's hard to ignore the financial impact non-compliance can have on their practice.
By implementing IoMT secure devices, healthcare professionals can take a proactive approach to HIPAA compliance while ensuring the safety of their patient network.
How to Protect Your IoMT Devices
Whether you're adding new devices to your healthcare environment or updating older, legacy devices, there are a few objectives you need to keep in mind. Achieving optimal IoMT security takes a holistic approach that addresses your entire technology stack. Here are some important steps to protecting your IoMT devices against cyber threats:
End-to-end encryption that ensures safe passage of sensitive data
Multi-factor authentication at every level
Unique firewalls for each of your locations
Staying up to date with patches and software updates
Back up all sensitive data to a cloud-based network
User endpoint protection for all devices
The security of IoMT devices may also depend on a custom approach geared toward your facilities and networks. The most effective way to ensure your devices are protected is to integrate with remote access software. Doctors, technicians, and patients will then be able to interact with their data remotely, without the threat of that data being exposed to unwanted activity.
Secure Your IoMT Devices with Impero Connect
The internet of things is vast and growing every day and the healthcare industry has carved out a unique space with the demand for the internet of medical things. The IoMT has enhanced care models, made way for more convenient healthcare experiences, and allowed for quicker, more accurate diagnoses.
However, with the rise in IoMT devices comes increased security threats. Legacy operating systems and devices without security baked in make up a large portion of the IoMT. Weak authentication measures open up providers to costly data breaches and HIPAA violations. IT professionals in the healthcare space must work to implement solutions that secure their connected devices.
The most effective strategy is to implement a secure remote access software that can integrate with all your devices. With Impero Connect, healthcare professionals can breathe easy knowing that their data is only passing through encrypted channels. Impero Connect is in full compliance with HIPAA regulations and will protect against patients' privacy concerns.
An important advantage of choosing Impero Connect is scalability. The entire suite of software is flexible to the needs of your network and provides uncompromised security. If you are an IT or healthcare professional and want to bring stronger security to your IoMT devices, contact us today to get started.