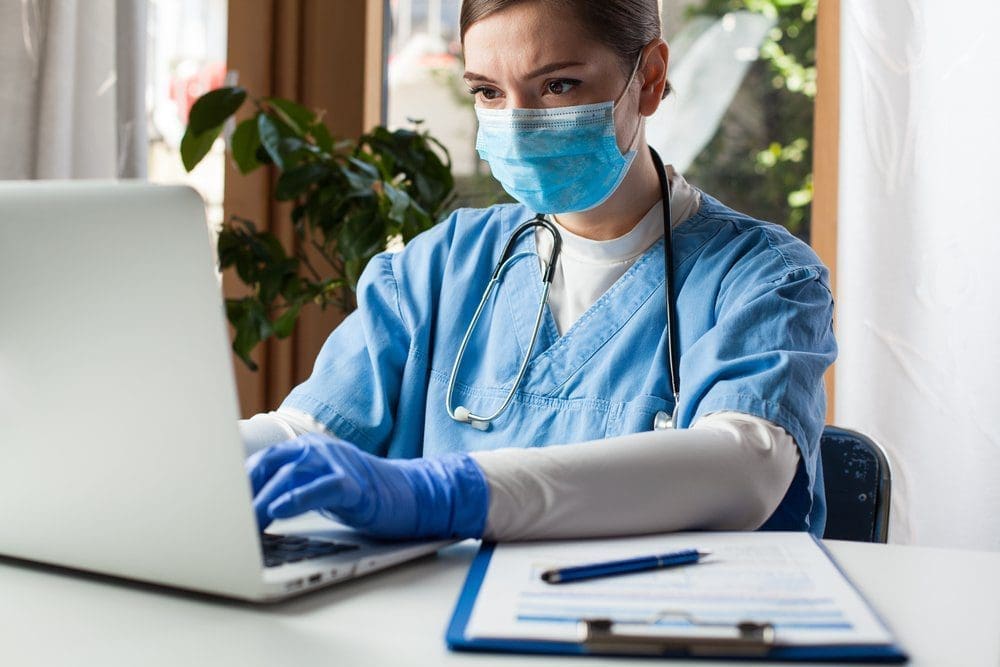 The origin of the term IoMT comes from the broader category – the internet of things. Healthcare trends and rapid technological advancements in medical spaces then made it impossible to ignore that IoMT is a category all by itself. According to a report by Allied Market Research, the IoMT market is expected to grow to $332 billion by 2027. This size market can't be ignored, and it signals a major disruption in an already high-stakes industry.
What is the Internet of Medical Things?
The Internet of Medical Things, or IoMT, is a collection of devices, applications, and data wirelessly connecting the vast network of healthcare systems. The objectives of IoMT devices are varied, but they share a common goal of improving patient outcomes through increased connectivity.
It's important to recognize the massive scope of the internet of things in healthcare. A recent Deloitte report estimated that there are over 500,000 medical technologies that have potential wireless connectivity.
With a network of devices this numerous and varied, issues of cybersecurity healthcare are sure to arise. But first, let's take a look at the benefits of the IoMT.
Benefits of the IoMT
There's a reason why talk of the IoMT is growing in IT circles. Similar to how the industrial IoT is influencing manufacturing, the internet of medical things is poised to reshape healthcare systems. This is first and foremost because of the advantages it provides to both patients and providers. Here's a look at just a few of the benefits of the IoMT:
More convenient healthcare experiences
Faster and more accurate diagnoses
Reduced costs for providers and insurance companies
Better patient outcomes
Real-time data tracking and analysis
Heightened focus on security and privacy
For all these benefits and more, it's clear why many IT professionals are trying to best understand – what is IoMT, and how do we leverage it for a better future?
Why the Internet of Medical Things is the Future of Healthcare
A number of trends highlight why the IoMT is taking the healthcare sector by storm. The booming telemedicine market is expected to reach $185 billion by 2026. A recent Gartner survey showed that 86% of healthcare providers were already using IoMT devices by the end of 2019, and that number is only growing. With this level of penetration into the industry, it's fair to say that the IoMT is the future of healthcare. But why?
To understand the reasons why the internet of medical things has so much staying power, let's take a deeper dive into some of the advantages these devices and applications present to the healthcare space.
IoMT Lowers Costs for Healthcare
In a report published by Goldman Sachs, economists predict that the IoMT could save the United States over $300 billion annually in healthcare expenditures. These savings would come from a number of sources including improved chronic disease management, more accurate clinical trials, and healthier lifestyles.
When researchers and providers pay less, insurers and patients reap the benefits. A leaner, more connected care model is buoyed by the emergence of IoMT and is one main factor in its staying power.
Smart Monitoring Technology
Smart monitoring combines a connected device with real-time sensor capabilities. Think of the ever-popular fitness trackers, which make up over 70% of the wearables market. These are indeed IoMT devices, just on a smaller, consumer-oriented scale.
Now combine that network of personalized health data with the data collected by monitoring devices used by healthcare providers, and we can easily see the impact IoMT monitoring has on the industry at large. The internet of things in healthcare is unlike any other because of its ability to connect to these devices remotely, analyze data in real-time, and connect to patients regardless of location.
Cybersecurity Measures in Healthcare
Another reason why the IoMT is so influential is the way in which its emergence demands the collaboration of IT and healthcare professionals. With more and more medical devices coming online, it's imperative to address the growing opportunities to strengthen security.
While we remain optimistic that the intersection of IT and healthcare will lead to more secure systems, many providers are struggling to grasp the importance of cybersecurity in medical spaces.
The Importance of the Security of the IoMT
As we've already seen, one of the major benefits of the internet of medical things is its ability to enhance remote monitoring and analysis. But with more smart devices collecting patient data and sensitive information, the attack surface area for cybercriminals is getting much larger.
According to a 2020 report published by Palo Alto Networks, 51% of cyber threats in the IoT involve imaging devices, and 83% of those devices run on unsupported operating systems. This means that routine updates and patches may not be available, and in turn, many providers' devices are left vulnerable to attack.
What's at stake is two-fold. Data breaches due to unprotected legacy systems could leave healthcare professionals with costly HIPAA violations and lawsuits. Also, network downtime due to malicious activity causes dangerous interruptions to care and could affect patient outcomes.
Secure IoMT Devices with Impero Connect
The challenges of securing connected devices are unique to each industry when it comes to the internet of things. Healthcare presents a whole new set of opportunities for IT professionals to make improvements in a rapidly growing space. Securing IoMT devices for your medical practice will take an individualized approach that emphasizes healthcare IT support.
Most importantly, healthcare providers should work with their IT professionals to implement a secure remote access software that can integrate with all their devices. Many IoMT devices run on unsupported operating systems and are not built with basic security features. For a more secure future, Impero Connect provides end-to-end encryption and secure remote access for healthcare technology stacks. Impero's HIPAA-compliant suite of remote access software will ensure you're only sending patient data through secure, encrypted channels.
The advantage of Impero Connect is full scalability, flexibility, and uncompromised security. If you are an IT professional in the healthcare industry and want to usher your practice into a more secure IoMT reality, contact us today to get started.