With last week's release of Impero Connect v12.9, our customers are no longer using Netop Remote Control — although the software still looks and feels familiar.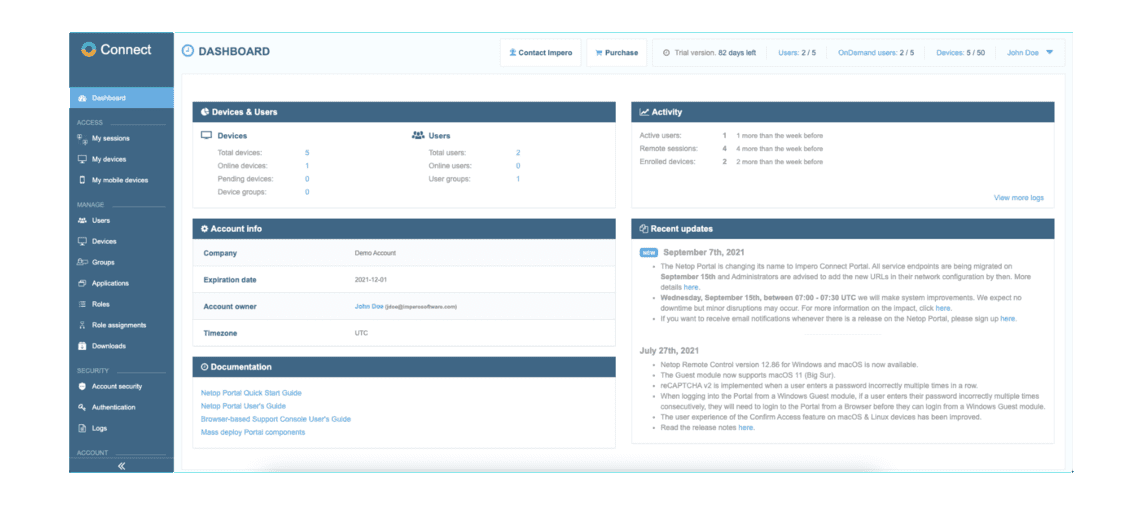 When Impero acquired Netop in early 2021, the core development team stayed intact. After all, the team was busily building on 40+ years of experience with the world's top retailers, financial institutions, manufacturers and healthcare organizations to refine an already effective technology.
Netop customers, including half of the Fortune 100, have relied on this secure remote access technology to connect to any device or server, staying operational no matter how dispersed their operations. None of that changed with the acquisition. Impero succeeded in its goal of adding a premium remote-access tool to add to its product suite.
Every feature and function of the renamed Impero Connect remains finely tuned to work with complex devices, networks and data. All that's changing is our access to resources that will help take our software and customer service capabilities to new levels.
"When we started looking at Netop, it was clear where the remote access solution fit and could advance our strategic direction," says Justin Reilly, CEO of Impero Software. "We are pleased to introduce Impero Connect to new markets, while serving our growing client base with a full product suite that enhances safety, security, and efficiency everywhere people and information systems meet." 
Join us for a demo to see the Impero Connect solution in action, and learn more on our FAQ page here.
We make it simple for people to connect with confidence to any device, server, platform, or network. Impero Connect works with customers in more than 90 countries, alongside our technology partners Microsoft, NCR Corporation, Gilbarco Veeder-Root, Diebold Nixdorf, Toshiba Global Commerce Solutions and others.
"We're unveiling Impero Connect at a moment when organisations are looking for rock-solid security. At the same time, they want solutions that help teams perform at their best, with tools and systems that work as needed."

– Toke Tangkjær, Executive Vice President at Impero Software
Make sure your organization can run effectively and safely, no matter where people and devices connect. Contact us to learn more, or check out our demo event.